Drop-In Care at Young School
Flexible scheduling to meet your needs.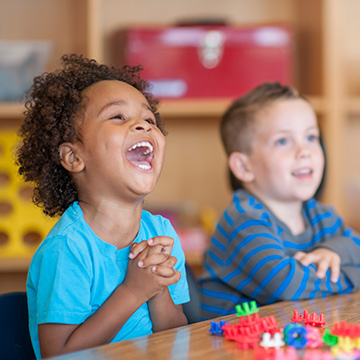 Supporting parents and families is our community service. We want you to have peace of mind and that means offering flexible options to help you navigate various daytime schedules. Yes, even if things change suddenly! With Young School's Flex Care, you can purchase child care days ahead of time, so you are prepared for anything, including drop-in needs, such as:
Holiday or school breaks
Part-time work or irregular schedules
Temporary child care needs
Weather delays or cancellations
Prepaid Flex Care cards can be purchased in five-day increments, which are honored for one full year. They are available at your local Young School location, for as many days as you'd like:
Call 48-hours ahead of time to reserve a spot
Use Flex Care one day at a time, or all at once
No registration fees
Do you stay home with the kids, but need an occasional day off or time to run errands? Flex Care is the perfect option for this scenario, too! You can also take advantage of Flex Care during the summer months and we certainly encourage you to do so.
If you're an employer, our team is here to work with you to create a custom solution for your workforce. Learn more about our Employer Solutions to see how we can partner with you to offer additional child care support.