Make memories this summer.
We're ready for fun, friendship, and learning this summer. Are you? Join us!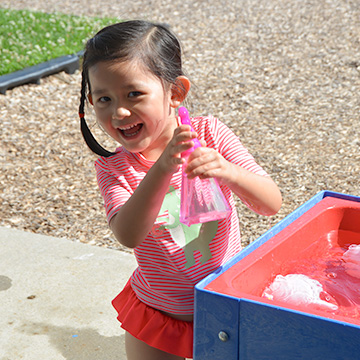 Ateliers Is Where It's At
So, what is an Atelier? Atelier is a French word meaning workshop or studio, used in Reggio Emilia-inspired settings for focused exploration and research. Our unique Summer Mini-Atelier experiences offer engaging learning experiences for all ages! Potential subjects include:
STEM (Science, Technology, Engineering, Math)
The Natural World
Light and Shadow
Different aspects of the Fine Arts
We will also have an additional focus on STEM as part of an outdoor classroom!
Fantastic Fridays
Every day is fun in summer, but Fridays are just a little extra special at the Young School.
This summer's Fantastic Fridays are literary-themed and feature:
The Little Red Hen Pizza Party (June 25)
The Mixed-Up Chameleon Tie-Dye Day (July 16)
Goodnight, Campsite Camping Out Day (July 23)
How I Became a Pirate and the Great Treasure Hunt (August 6)
The Rainbow Fish's Beachy Bubble Friendship Dance Party! (August 20)
Guiding Our New Graduates
We're also excited to introduce our Summer Graduates Program!
This component of our summer program is for children entering kindergarten in the fall. We help ease their transition from our school to kindergarten by shortening rest times, keeping literacy and math skills fresh, adding extra time to explore STEM concepts (such as coding), cooperative group activities, extended focus activity times, and, of course, enjoying summer with friends!
This year's Graduate Program will feature:
The Legacy Project: Graduates brainstorm ideas and create a unique legacy gift to leave their cottage or the school. It may be a book, a painting, a construction, whatever the group chooses as a reminder of their time at our school for friends that remain as they go off on their big kindergarten adventure!
Kindergarten Readiness: Using age-appropriate materials, graduates hone skills in cooperation, logical-mathematical thinking, problem-solving, decision-making, and more. Teachers focus on social-emotional regulatory skills critical to success in kindergarten, along with keeping literacy and math skills fresh with journaling, coding games, and more. (We've heard that kindergarten teachers love to have Young School graduates in their classrooms!)
Extended Atelier Time: Our graduates have extra time to spend in ateliers all to themselves, both the outdoor STEM atelier and mini-ateliers within their cottage.
Sports and Outdoor Games: Organized sports highlight beginning skills for creating lifelong healthy habits. These activities also allow the opportunity to practice teamwork, cooperative play, and sportsmanship through physical activity and organized play.

These special graduate-only activities are a wonderful way for our oldest children to relish their final months at the Young School as they prepare for the next step in their education!