Assistance for Military Families
Quality care with peace of mind.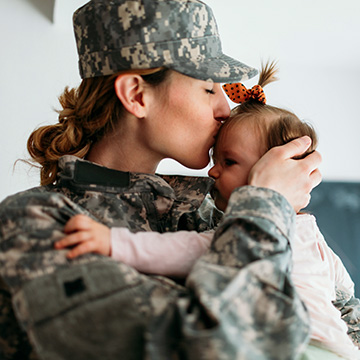 We are dedicated to helping your family thrive, no matter the circumstances. Part of that commitment includes special consideration for the heroes in our child care network. We are honored to support military families and their little ones by providing a safe place for children to learn and grow.
To show our gratitude, active military families may qualify for a 10% discount on tuition. Families may also receive assistance from Child Care Aware® of America and the USDA Child Care Subsidy.
Feel connected to your child's day—from anywhere!
Whether you're at the training center for a long day or deployed and missing your little one, our parent technology gives you access to their classroom. We offer secure live streaming video from any computer or smart device to keep you connected, no matter the distance. It's a small way to say a big thank you for your service.
Encrypted and tightly controlled
Every account authorized individually
Intuitive and easy to use
Find a school near you, today.