Difference Makers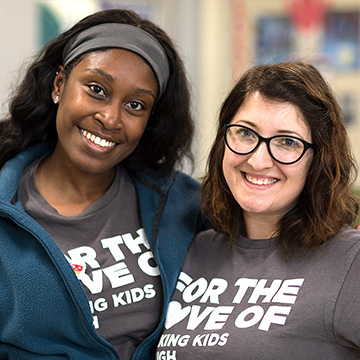 At Young School, we believe the heart of a quality program begins with the people who care for your children. Our entire team of educators acts with respect, works with intention, and is guided by a strong image of the child. We support our teachers in their ongoing professional development, so your child gets the best experience possible.
Highly Qualified Teachers
Our full-time classroom teachers are hired fully qualified in the state of Maryland to work with young children (or are actively pursuing their qualifications upon hiring). This includes any teachers holding a 4-year degree in a field other than Education. Our teachers have the opportunity to pursue the Child Development Associate (CDA) Credential® and engage in a range of other professional development experiences.

Assistant Directors
Each Preschool Cottage has a dedicated Assistant Director to actively mentor and support the teachers. This hands-on leadership role, unique to Young School, is designed to facilitate excellent communication with staff and families, ensure the implementation of quality learning experiences, and provide role-modeling for all staff grounded in our philosophy. Assistant Directors work with the administration to ensure the well-being of children, teachers, and families in each cottage.

School Education Managers
Every Young School has a School Education Manager (SEM) that works directly with Assistant Directors and all teachers in the school from Infant Care to the Pre-K classroom. Along with supporting the daily running of the school, the primary role of the SEM is to ensure the highest quality of learning experiences through interactions, environment choices, documentation, planning support, and materials. All SEMs also work with the corporate-level Education Team, developing and guiding intentional choices that support the teaching and learning in every Young School.